Charlie Hulme's excellent North Wales Coast website news section brings sad news.
In 1873 Ludwig Mond and John Brunner established a works at Winnington near Northwich to produce Soda Ash, using the local Cheshire brine and limestone brought by train from the Peak District.
Later, when the company had become ICI, their open steel bogie limestone 'hoppers' were an everyday feature of this area of Cheshire as they made their way from Tunstead quarries near Buxton, through Hazel Grove, past the old Cheadle CLC station, Baguley, Skelton Junction, Navigation Road, Altrincham, and on through Mobberley and Knutsford to Winnington.
As I cycled to school
I used to see them regularly, passing Baguley behind an 8F, a plume of white limestone dust from each hopper left in the slipstream... Or, if I was going to or from school by bus and then the old DC electric trains from Altrincham to Sale, I'd maybe see 'The Hoppers' from the North Western bus while we waited at at Hale level crossing. Sometimes I'd see the train come pounding through Altrincham station, the 8F working flat out round the climbing tight reverse curves at the south of the station towards Hale with its fully loaded train. There were several trains a day in each direction in those days.
Later the vacuum braked Hoppers were replaced with modern air braked wagons of much greater capacity, allowing trains of 2,400 tons to run, so only a train one day was usually required.
The Winnington Soda Ash plant is to close, and the last 'Hoppers' to Oakleigh sidings is expected to run on Sunday 2nd February 2014. The end of an era, though occasional trains are expected to continue to run to Lostock works, between Lostock Gralham and Northwich.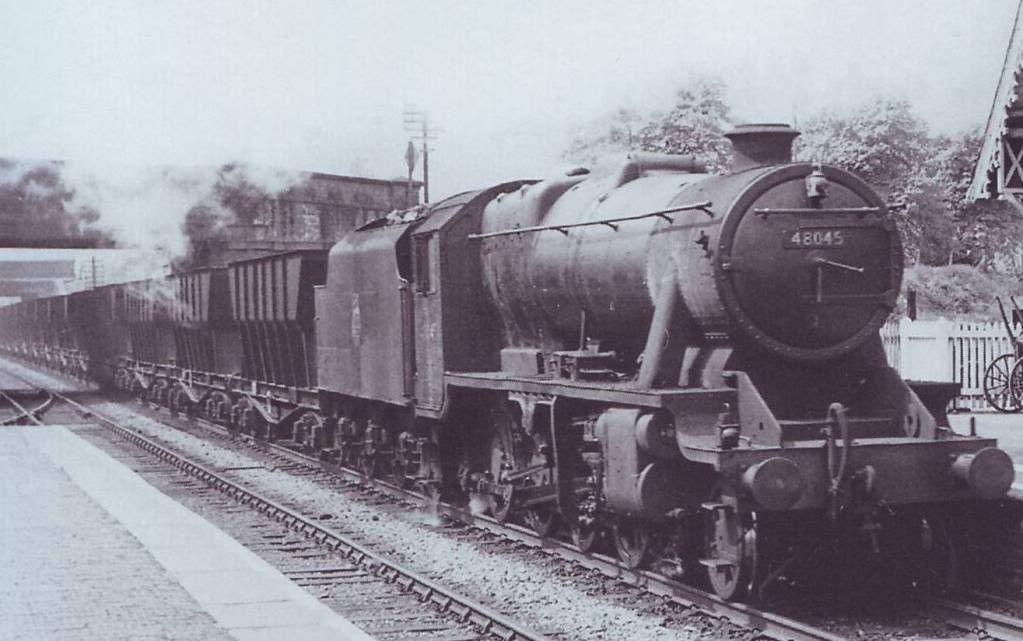 'The Hoppers' behind an 8F somewhere on the CLC


Last Days of 'The Hoppers'
60 079
on the Oakleigh - Tunstead empty limestone hoppers passes Plumley on 14 January Picture by
Andrew Vinten
.
In 1873 Ludwig Mond and John Tomlinson Brunner purchased the estate of Winnington Hall near Northwich and established a works to produce Soda Ash (Sodium Carbonate) using the Solvay process which uses as raw materials the salt (Sodium Chloride), which has been mined for centuries in that part of Cheshire, and limestone (Calcium Carbonate) available from quarries in the Peak District of Derbyshire from which it could be brought by train. A siding connection, latterly known as Oakleigh Sidings
, was established with the Cheshire Lines railway near Northwich The company bought its own wagons to carry the stone from the quarries operated by Buxton Lime Firms, a
company of which Brunner Mond purchased a controlling interest in 1918 to safeguard their supply.
Peak Forest on 27 May 1982:
25 195
on hoppers,
25 152
banking in rear. Picture by
J.W. Sutherland
.
In the 1920s, Brunner Mond merged with other chemical firms to form the famous company ICI (Imperial Chemical Industries). ICI developed the new workings at Tunstead, near Great Rocks Junction, which have grown to cover an large area over the years, and are still worked today. Increased traffic required more efficient rolling stock than the small wooden-bodied wagons, and in 1935 the first of the all-steel bogie hopper wagons known to staff and railfans alike as the 'ICI Hoppers' or just 'The Hoppers.' These same vehicles, later augmented by similar wagons obtained second-hand from Shotton steelworks, shuttled between Tunstead and Northwich for over 60 years before their low capacity (by modern standards) and obsolete vacuum brakes, not compatible with the new Class 60 locos. In their time they had been hauled by '8F' 2-8-0s, followed by diesels of classes 25, 20 (in pairs), 37 and 60 among others. Until the class 60s became available in the 1990s, most loaded trains were 'banked' from the rear over the first mile from Tunstead to Peak Forest station. By this time, the ICI company has been broken up, and the Soda Ash operation reverted to the name Brunner Mond.
On Sunday 26 January,
60 007
The Spirit of Tom Kendell
brings a loaded train through Baguley between Hazel Grove and Altrincham.
Second-hand four-wheel air-braked hoppers, their rattling while in motion annoying the residents near the line in south Stockport, took over the traffic until newly-built modern bogie hoppers (coded JEA) took over in 2000. The standard train in recent years, worked by DB Schenker, has been 24 of these wagons, a nominal load for the locomotive of 2400 tonnes, 1800 tonnes of which is the limestone load. These new wagons require fewer trains than the old ones, with just one set of wagons in use shuttling between Tunstead and Oakleigh, with loaded trains running once or twice per day.
In 2006 Brunner Mond was acquired by Indian conglomerate Tata, and the train service continued as before, but in late 2013 it was announced that the Soda Ash plant would close due to the rising cost of energy. The 04:03 Tunstead to Oakleigh and 10:00 return ran as normal on 27 January, but the the afternoon loaded train has been cancelled. We are being told that the last train of all will run on Sunday 2 February; if so this will truly mark the end of a railway era, as well as a loss of a living wage for many workers.
(Historical information is from to the excellent book
An Illustrated History of the ICI hopper wagon
by Paul Harrison and Peter Midwinter, published by Cheona Publications in 2002.)
--------------------------------------------
Update 2nd February 2014: Hopper train 611B 14:06 Tunstead to Oakleigh cancelled. It looks likely that the last train to run (Friday 31st January) was probably the last ever limestone hoppers to Winnington, though a few trains a week are expected to continue to run to Lostock works.
.